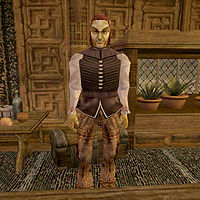 Uulernil is a High Elf smith who has a shop in Pelagiad where he buys, sells and repairs armor and weapons for all visitors.
Aside from his natural weaknesses to fire, frost, shock and magicka, his natural bonus to magicka, and resistance to disease he knows no spells.
Negative numbers indicate restocking items.
Items in italics are equipped, and can be purchased if you sell him something better first. (If there is more than one, you may be able to purchase the others.)
Items in bold are Leveled Lists. Click on them to learn more about what they may contain.