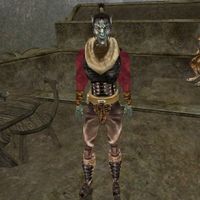 Tedryn Brenur is a Dark Elf master-at-arms and Tough of the Camonna Tong. He is located on the roof of the Council Club in Balmora.
Tedryn offers medium training in Long Blade, and minor training in Short Blade and Blunt Weapon.
He wears a boiled netch leather cuirass, netch leather boots, cloth bracers, and a common shirt with matching pants. In combat, he relies on an iron mace. Aside from his natural resistance to fire and the sanctuary provided by his ancestors, he knows no spells.