Artifact: Blood Ring

(blood ring)



Type
Ring
Statistics
 Weight
0.2
 Value
30,000
Enchantment
Charge/Cost = Uses
920/184 = 5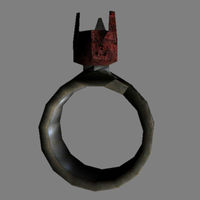 The Blood Ring is a "unique" (see below) ring worn by Dagoth Gilvoth in Citadel Dagoth Ur, whom you are advised to kill during the assault on Dagoth Ur. The ring itself is relatively powerful, offering several effects.
Note: There is a second Blood Ring listed in the Construction Set, ID: artifact_blood_ring. They are identical, but this one is not found in-game.