Artifact: Belt of Heartfire

(belt of heartfire)



Type
Belt
Statistics
 Weight
4
 Value
20,000
Enchantment
Charge/Cost = Uses
640/128 = 5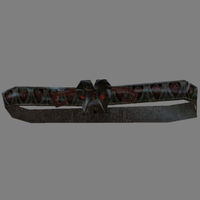 Worn by Dagoth Uthol in the ruins of Kogoruhn, whom you may kill during The Path of the Incarnate or the assault on the Citadels of the Sixth House.
The Construction Set contains two unused versions of the Belt of Heartfire, with IDs extravagant_belt_hf and artifact_belt_of_heartfire. The first uses different (generic) graphics, and the second has a weight of only 1 instead of 4, but they are otherwise identical. These two versions are not seen in-game.