This quest page is currently being rewritten as part of the Morrowind Overhaul Project.
The page is being rewritten and checked in several stages. All users are welcome to make changes to the page. If you make a change that is relevant to the project, please update this template accordingly, and make sure you have observed the project guidelines.


Detail

Walkthrough

:

not written

Objectives: written by already written not checked


Reward

:

not written
| | | | | |
| --- | --- | --- | --- | --- |
| |   | Help this lost trader reunite with his business partner. |   | |
Quick Walkthrough
Edit
Detailed Walkthrough
Edit
An Escort to Molag Mar
Edit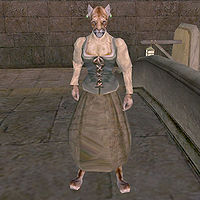 Just south of Suran (across the water and close to Dirara's Farmhouse) you'll find Paur Maston wandering around. When you first speak to him he should mention something about meeting a business partner and travelling on to Molag Mar. Inquire further to learn that his partner, Vanjirra, never showed up for their trip. Keep talking and agree to escort Paur to Molag Mar, just to the east.
Protect Maston
Edit
The trip shouldn't be too difficult, but keep a close eye on your companion to ensure he doesn't get into trouble. You can also lead him back to the Vivec or Suran Silt Strider port and ride with him to Molag Mar to save a lot of hassle.
Meet his partner
Edit
Vanjirra is located on the western bridge outside of Molag Mar. Paur will stop following you when he gets near to Vanjirra. Speak to Vanjirra who will offer you a reward for escorting Paur to her (a Light Amulet). Note that if Paur died for any reason you can still get 50 gold as a reward.
If you refuse to escort Maston the first time you speak with him, you will be unable to accept the quest thereafter.
Quest Stages
Edit
The following Quest_ID and Index codes can be used with the Journal Console command to manually update the quest to a certain point.
An Escort to Molag Mar (MV_TraderMissed)
Index
Finishes Quest
Journal Entry
10
I met a trader named Paur Maston while traveling north of Bal Fell. It seems he was supposed to meet up with his partner, a Khajiit named Vanjirra, but Paur arrived late, and she had already gone on to Molag Mar.
15
I met a trader named Vanjirra in Molag Mar. She is partners with Paur Maston.
20
It seems Paur Maston fears for his life on the trip to Molag Mar. No wonder. I've heard it can be quite a dangerous journey. He would like me to escort him to Molag Mar and protect him from any dangers we might face. While he has little to offer me, he promises that his partner will compensate me once we arrive in Molag Mar.
30
I've agreed to escort Paur Maston on his trip to Molag Mar. It could be quite a dangerous trip, but he promises I'll be well rewarded once we arrive and he can find his partner, Vanjirra.
40
I've decided not to escort Paur Maston to Molag Mar. I have other things that are more important to take care of.
90
Paur Maston met his end while on the trip to Molag Mar. Sadly, he will never be able to meet up with his partner, Vanjirra.
95
Paur Maston and I have arrived in Molag Mar.
100
We have found Paur Maston's partner, Vanjirra. They were honest folks, and did reward me for my efforts.
110
I arrived in Molag Mar with Paur Maston. Of course, I knew that Vanjirra was already dead, but didn't figure that Paur needed to know that as well. The fool still paid me what he could for escorting him here.
130
I arrived in Molag Mar and spoke to Vanjirra. She was saddened to hear of Paur's demise on our journey here, but was grateful that I was kind enough to tell her what had happened. An honest person, she rewarded me in a small way for my efforts.