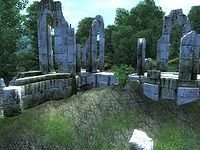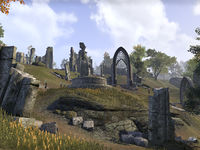 Sardavar Leed (originally named Sard) was an Ayleid settlement located south of Lake Rumare in the Great Forest of Cyrodiil.
Sard was known for the breeding of men by the Ayleids. Many tribes of men were brought from all across the Nibenay Basin, and some were even imported from southern Skyrim. They were bred for use as slave labor or to be tortured for the amusement of the Ayleids. It was here that the future Saint Alessia was brought as a youth and raised.[1] She prayed to Akatosh and the Aedra to be freed from Ayleid slavery,[2] and her prayers were answered when she escaped from captivity and began the Alessian Slave Rebellion in 1E 242, which would ultimately result in the collapse of the Ayleid Empire and the extinction of the race.[3] At some point the settlement's name changed to the modern 'Sardavar Leed', and it was eventually abandoned.
An Imperial fort was built east of the ruins and was named Fort Alessia, likely in her honor. It played a significant role in the Alliance War of 2E 582, when its strategic position made it key for gaining control of the Imperial City.[4]
By 3E 433, the ruins of Sardavar Leed had been taken over by a hostile group of conjurers and were used for trafficking with Daedra in secret.[5]
Circa 4E 40, Prince Attrebus Mede and his troops set up camp by the springs near the ruins when they were betrayed. Led by one of Attrebus' lovers, a Redguard named Radhasa, the group was massacred in cold blood by a group of mercenaries hired to assassinate the prince. Radhasa spared Attrebus' life and brought him south, intending to sell him in Elsweyr. The ghosts of those massacred helped the Penitus Oculatus in eventually discovering that Attrebus still lived.[6]
References
Edit