This article could benefit from an image
of:
Illiac Bay and Vvardenfell maps, pages for Arena, Morrowind's expansions, and Oblivion
See Help:Images for information on how to upload images. Please remove this template from the page when finished.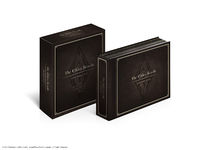 The Elder Scrolls Anthology was a limited-release box set of all five of the primary Elder Scrolls games for PC. It was released on 10 September, 2013 in America and 13 September, 2013 for European regions.
It came with the following content: