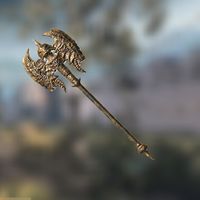 Onyx Cleaver (OnyxCleaver)
Type
Heavy Cleaving Weapon
Quality

Legendary Artifact

Player Level 50
Statistics

187.5

(?)

168.75

626
61,195
Description
Said to be made from petrified shadows, the Onyx Cleaver both inflicts damage and causes fatigue on any opponent unfortunate enough to get hit by it.
Effects

Increases damage against blocking targets by 145.76.
Improves main enchantment by 15% (applied).
Reduces target's maximum Stamina by 51.
Reduces target's Stamina regeneration by 1 per second for 5 seconds.
Onyx Cleaver (?)