Golden Champion's Helm (Needs ID)
Type
Helmet Armor
Quality

Legendary

Player Level 45
Statistics

118.8

325
2,157
Description
Reserved for the greatest combatants of the Arena, this gilded helmet is as tough and durable as Dragonscale, gives additional protection against bashing and shock damage, and is enchanted to increase its wearer's Health.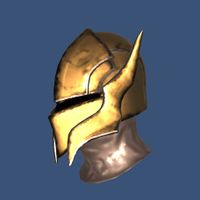 The Golden Champion's Helm is a unique helmet awarded to players who ranked within the top 100 on the Arena Leaderboards prior to their reset at the end of early access.
Those who ranked between positions 1,000 and 501 instead received the Bronzed Gladiator's Helm, while those between positions 500 and 101 received the Silver Hero's Helm.
In appearance, this item resembles a retextured Ebony Helmet.