Thanks for all you do JustTheBast, I refer in particular to your Resist Fire contributions. I have a question about Reflect Spell that I've posted on the Oblivion_Talk:Reflect_Spell page. I don't know who is in charge of what here, but you seem to know what you're talking about and I'm an impatient sort, so I thought I'd ask you to take a look, if you have the time. Thanks again, Kalevala 13:18, 4 May 2007 (EDT)

Welcome to the wiki from me JustTheBast! Thanks for all the work you've done so far. :) Pappasmurf 18:57, 22 February 2007 (EST)
Bast, I can't believe I've never popped by here to say 'hi' and 'you're wonderful' before. Forgive me, dearest? Somercy 12:59, 7 March 2007 (EST)
Only if you forgive me in turn, for being remiss in the same fashion. ^_^ -- [[
User:JustTheBast|JustTheBast]] 13:09, 7 March 2007 (EST)
So forgiven, dearest. Wo in Deutschland bist du? Somercy 08:14, 8 March 2007 (EST)
I'm living in Oberhausen, North-Rhine Westphalia. And whereabouts would one find you? ^_^ -- JustTheBast 08:51, 8 March 2007 (EST)

America, but with a good German teacher. ~_^ Somercy 08:52, 8 March 2007 (EST)
Learning German? Oh, you poor, poor dear; my commiserations. It's such a horribly overcomplicated language that even most native speakers can't speak it properly without concentrating hard, and some not even then.
I'm living in the (formerly) heavily industrialised area called the "Ruhrgebiet", after the river Ruhr, where there exists an interesting liguistic dichotomy. On the one hand, the dialect spoken here is one of the thickest and most ungrammatical, rivalling that of Cologne and Bavaria, but on the other hand, people here have (statistically speaking) the easiest time shucking their accent and speaking proper "high" german, when they try. -- JustTheBast 09:03, 8 March 2007 (EST)

Thanks for the commiserations. I'm getting an exchange student from Neu Ulm in April, and I've no idea what I'm dealing with there. I think English is probably harder to learn, though. Right? Somercy 12:37, 8 March 2007 (EST)

Well, I can't really compare the learning experience, because I learned German through growing up here and acquired English as a second language, but English sure seems easier, what with one less grammatical case and no need to keep all those darn declinations and conjugations straight in every sentence. Although I have to admit that being used to two objective cases in German really helps keeping "who" and "whom" straight in English. Not that anyone uses "whom" anymore. -- JustTheBast 13:37, 8 March 2007 (EST)
Wow, you're doing a lot of work with the NPC's and it looks wonderful. Vielen dank! Saskia 14:44, 10 March 2007 (EST)
Hey, dumb question...Are you male or female? If you're female, I propose we three new patrollers go around calling ourselves Charlie's Angels (Or maybe Daveh's Angels...). Congrats on the promotion! Somercy 13:05, 13 March 2007 (EDT)

Alas, I have to tell you that - despite the association with an ancient Egyptian goddess - "Bast" is short for "Sebastian", in my case. -- JustTheBast 13:16, 13 March 2007 (EDT)

Drat. So, I guess you wouldn't purr if I'd scratch you behind the ears? Somercy 12:17, 14 March 2007 (EDT)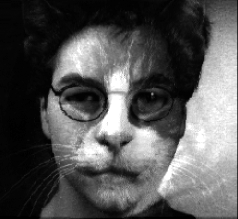 Oh, I wouldn't say that. I've been known to emit appreciative noises, if treated right... =^_^= -- JustTheBast 12:28, 14 March 2007 (EDT)

Oh, dear. Save me from catboys and catgirls...(gentle scratching behind ears and under chin) Somercy 12:30, 14 March 2007 (EDT)

<purrrrRRRrrRRRrr> That's always more welcome than the usual thrown boot. ^_~ -- JustTheBast 12:42, 14 March 2007 (EDT)
(sodomize the colons) Don't tell Quashkins, though...if he knew I was flirting with another furry...his inner lesbian catgirl is rather possessive. Somercy
I shall be very discreet about sodomizing the colons, as you wish. (Come to think about it, can you sodomize anything but a colon? Else it would be some other form of intercourse.) -- JustTheBast 13:01, 14 March 2007 (EDT)

Sorry, I've a thing about quote trees...and a large axe to demolish them with. Somercy 13:16, 15 March 2007 (EDT)
Well, I guess in a simple back-and-forth conversation between two people it's not necessary, but in a discussion between multiple people, I like the help of the indentation to tell who is replying to which statement from whom. -- JustTheBast 13:41, 15 March 2007 (EDT)
Sure, I'll agree on that point. Wow, somehow, that reminded me I have another answer for Pappasmurf's riddle. Somercy 13:46, 15 March 2007 (EDT)
NPC Templates
Edit
Okay, apparently you missed the latest change to the NPC Templates, so I'm sending you an FYI to let you know before you make any more. The "racecat" field is no longer required, and you don't have to put a link on the "race" field. Just type:

|race=Orc

and that's all you need. The link and categories will be generated automatically. --TheRealLurlock Talk 15:21, 10 March 2007 (EST)
Thanks for tackling this with such gusto... and being patient as we make changes left and right while you're trying to get work done ;) I just thought I'd warn you in case you're oblivious to the changes made in the last thirty minutes that the mega-sandbox page you're probably working from no longer exists. The chunk you're working on has been moved to User:Nephele/Sandbox/4/ABCDE. So if you try to save your edited version of the mega-page, you'll probably get a really ugly edit conflict warning. The good news is with the page split up into somewhat less insanely large pieces, it won't take 5 minutes just to pull up the page or save an edit any more ;) --Nephele 17:40, 10 March 2007 (EST)
Distraction
Edit
I haven't been very active lately, mainly because I've been pressed for time - but also because I finally started watching Gilmore Girls, a series of which I had been aware but that I had never seen. So over the past week I've been making up for lost time via rented DVDs, spending most of my sparse free time alternately laughing out loud or giggling and squealing like a schoolgirl, instead of playing Oblivion and reading the wiki. I'll get over it, once I run out of episodes - or overdose and get sick of the series. -- JustTheBast 05:48, 24 March 2007 (EDT)
Sewer Maps x2
Edit
I'm so glad you made those maps because I'm putting together a massive, Imperail Sewer map. Unfortunetly, some sections of the map on this site are diffrent(Smaller and not as good) as yours. so i was wondering, if you would be intresting in finishing of them sewer mapsxD thanks
Return to the user page of "JustTheBast".