This Sandbox is used for major article rewrites. Currently it involves a rewrite for Random Oblivion World 3.
---
Oblivion World:
Random Oblivion World 3

# of Peripheral Towers
4
# of Non-Random Caves
1
Important Treasure
Console Location Code
Worldspace: OblivionRD003
OblivionRD003CavesA
OblivionRD003Tower01Left
OblivionRD003Tower01Right
OblivionRD003Tower02Left
OblivionRD003Tower02Right
Fixed Gate
Gate outside Leyawiin (map) (after Dagon Shrine has been completed)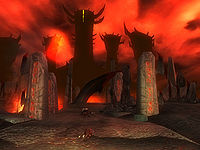 Random Oblivion World 3 is a medium-sized World, and one of seven randomly chosen Oblivion Worlds.
Introduction
Spindle Shrine (left side)
Edit
Blood Well (left side)
Edit
Spindle Shrine (right side)
Edit
Blood Well (right side)
Edit
The Molten Halls
Edit