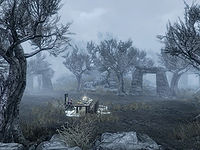 The Mind of a Madman is the mind of Pelagius the Mad. It is Pelagius' mind in a physical form. It is accessible only through the Pelagius Wing of the Blue Palace in Solitude, and only when the quest The Mind of Madness has begun.
The first area you see after you have been transported contains a long dining table filled with food and, on one side, Sheogorath sitting on a throne, and on the other side, Pelagius the Mad sitting in a chair.
The area to the right, known as Pelagius' Confidence, contains nothing except two ghostly figures fighting, Confidence and Anger. The area straight ahead, known as Pelagius' Night Terrors, contains a bed where Pelagius the Tormented is sleeping. The area to the left, known as Pelagius' Paranoia, contains an arena where two atronachs are fighting. On both sides of the arena are two stone chairs. The chairs on the opposite side contain a Bodyguard each, while Pelagius the Suspicious stands between them.
NPCs Present
Edit
Related Quests
Edit
As a worldspace, it is possible to fast travel away after using the quest journal to access the map. However, you will be unable to access the skill tree and magic inventory. While it is still possible to equip items through containers, you will lose all items, including quest items, that you were carrying when you entered. Thus, you should not fast travel.
Dragons may appear and possibly kill you, as they cannot land, and you cannot attack them.