Skyrim:Temple of Talos
The UESPWiki – Your source for The Elder Scrolls since 1995
This article is being developed as part of the Skyrim Houses Redesign Project. If you see this tag it means the article can still be improved. Please see the project page for guidelines.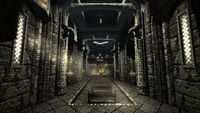 The Temple of Talos is located just northwest of Candlehearth Hall in Windhelm.
After the Empire signed the White-Gold Concordat with the Thalmor, the worship of Talos was outlawed. However under the protection of Ulfric Stormcloak, it is now the only formal Temple of Talos in Skyrim.
Residents
[
edit
]
Temple of Talos
[
edit
]
It contains a shrine of Talos in front of the statue of Talos in the main room with a row of five wooden benches facing it. It is tended by Lortheim and Jora, who also reside in the single sleeping quarters behind the statue. There are arched doorways on either side of the statue that lead to the sleeping quarters. They consist of an owned double bed coming out from the south wall with a set of shelves against the east wall holding various clutter, a bottle of Nord mead and an iron dagger. Opposite, against the west wall are a series of three wall shelves holding copies of Aedra and Daedra, The Song of Pelinal, v1, v4 and v5, The Amulet of Kings, The Monomyth, A Kiss, Sweet Mother and two copies of A Children's Anuad. There is also a chair under the shelves.
Jora will happily reveal that the Shatter-Shields, Hillevi Cruel-Sea and Ulfric Stormcloak frequent the temple.