This page or parts of this page were previously transcluded from lore pages per this discussion.
This page should be checked for potential unrelated lore and other information. Please remove this banner when the page has been cleaned up.
This article is about the NPC in the original game. For the NPC added by Dragonborn, see Nikulas (Dragonborn).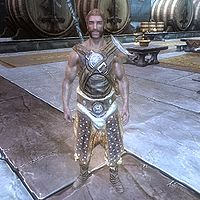 Nikulas was a Nord warrior from the Second Era. He and four companions embarked on a quest to find Sovngarde. However, Nikulas, Erlendr, and Hunroor were betrayed by the wizard Grimkell, who turned them into stone pillars at Brodir Grove on Solstheim. They were avenged by Ulfgar the Unending, who killed the wizard. All of the friends eventually did find their way to Sovngarde. Nikulas can be found in the west wing of the Hall of Valor.