This article is being developed as part of the Skyrim Houses Redesign Project. If you see this tag it means the article can still be improved. Please see the project page for guidelines.
The Hall of the Elements is a large training and meeting chamber inside the College of Winterhold.
Besides training spell casting, the chamber is also used for teaching classes, lectures and meetings.
Related Quests
Edit
Hall of the Elements
Edit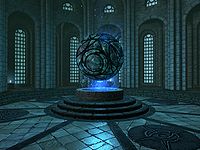 There are a pair of massive wooden doors that are the main entrance for the college. The hall includes the antechamber which has two internal doors, one to the northwest that leads to the Arch-Mage's Quarters, while the other to the southeast leads to the Arcanaeum. The hall itself a large circular room with a high ceiling supported by a ring of pillars, there are a pair of large gates which have the College symbol worked into the design, through which you enter the hall. Around the outside edge of the hall are a series of wooden benches with small light spheres between every couple of benches. There is a large focus point in the center of the room with magical energy rising from it up to the ceiling above. During most of the College of Winterhold questline, the Eye of Magnus is kept in the hall, floating above the focus point.