This article could benefit from an image
of:
jpeg, non-transparent (in-game) background
See Help:Images for information on how to upload images. Please remove this template from the page when finished.
Unique Item: Balbus's Fork

(

00

1058aa

)



Type
Clutter
Editor ID
BalbusForkNonEquip
Statistics
 Weight
0
 Value
0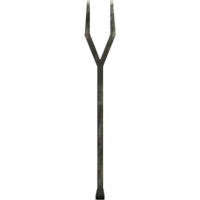 Balbus's Fork is a fork carried by Balbus. Balbus is a fan of the Gourmet, and it is with this fork that he tasted one of his dishes for the first time. If you have completed Recipe for Disaster and possess the Gourmet's Writ of Passage, he will gift it to you. In appearance, it is identical to the weapon fork variant. Unlike those forks, Balbus's Fork is a miscellaneous item, it weighs nothing, and it is worth nothing.