amiibo
Added by
Switch
Lesser Power
Type
Other
Casting
Fire and Forget
Delivery
Target Location
Equip
Voice
Spell ID

xx

00081C

Editor ID
LinkPlaceChest
Base Cost
0

Charge Time

0.5
Duration
0
Range
20
Notes

Already acquired upon starting a new game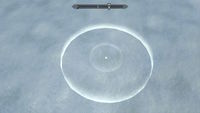 Use an amiibo to summon something useful. You never know what's going to come through when you use it.
amiibo is a lesser power that allows you to summon a treasure chest of items to appear in-game. To do this, equip the power and cast it on the floor. Glowing concentric circles will appear and emit a sound when you approach. By then tapping an amiibo figure against Joy-Con controller in real life, a chest will be summoned containing loot themed to the amiibo used. This can be done once every 24 real-life hours per amiibo.
In-game tutorial: To use amiibo, equip and cast the power, then touch an amiibo to the NFC touchpoint on your controller to summon a chest with special rewards.
Chest Contents
Edit
The items inside the chest will vary based on the amiibo used:
Non-Legend of Zelda figures: food, gold, ingredients
Legend of Zelda figures released before May 19, 2017 (listed in table below): 20% chance for a Champion's Tunic, a Hylian Shield, or the Master Sword, plus additional items as listed in the table below
Legend of Zelda figures released after May 19, 2017: 20% chance for a Champion's Tunic, a Hylian Shield, or the Master Sword, plus armor, arrows, fruit, and/or weapons.
The chance of getting one of the Zelda items will increase with 5 compatible amiibo taps within five days (for instance, tapping the same one five days in a row, or tapping five compatible amiibo within one day), and resets after you get one of the items. While you can get unlimited amounts of Champion's Tunics or Hylian Shields, there can only be one Master Sword.
The chests summoned by Legend of Zelda amiibo are styled after the chests from The Legend of Zelda: Breath of the Wild and play the "discovered-a-secret" chime from the Zelda games, while non-Zelda amiibo summon Skyrim-styled chests and are accompanied by chanting.
If you attempt to use the same amiibo within a 24-hour period, the following message will be displayed: This amiibo can't be used again today.
Specific Drops
Edit
The following Legend of Zelda amiibo, released before May 19, 2017, give specific categories of items in addition to the chance of getting a Zelda item:
| Amiibo Name | Series | Drops |
| --- | --- | --- |
| Link | Super Smash Bros. | Armor, arrows, fruit, weapon |
| Zelda | Super Smash Bros. | Bow, food, gems, ingredients |
| Toon Link | Super Smash Bros. | Armor, weapon |
| Sheik | Super Smash Bros. | Arrows, bow, mushrooms, shield, weapon |
| Ganondorf | Super Smash Bros. | Animal parts, gems, weapon |
| Wolf Link | Legend of Zelda: Twilight Princess | Arrows, raw meat, weapon |
| Link - The Legend of Zelda | 30th Anniversary - The Legend of Zelda | Armor, arrows, fruit, weapon |
| Link - Ocarina of Time | 30th Anniversary - The Legend of Zelda | Arrows, fish |
| Toon Link - The Wind Waker | 30th Anniversary - The Legend of Zelda | Arrows, weapon |
| Zelda - The Wind Waker | 30th Anniversary - The Legend of Zelda | Armor, gems, shield |
| Bokoblin | The Legend of Zelda: Breath of the Wild | Raw meat |
| Guardian | The Legend of Zelda: Breath of the Wild | Arrows, gems, metal ingots, shield, weapon |
| Link (Archer) | The Legend of Zelda: Breath of the Wild | Arrows, bow, fish |
| Link (Rider) | The Legend of Zelda: Breath of the Wild | Arrows, mushrooms, weapon |
| Zelda | The Legend of Zelda: Breath of the Wild | Armor, gems, shield |