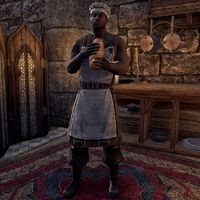 Zerdesht is a Redguard chef who works at the Sisters of the Sands Inn in Sentinel. His kitchen area is in the building's eastern wing.
He offers you a meal.
"Your belly growls like a duneripper! You should sit and abide for a while. Even the mightiest heroes have to eat."