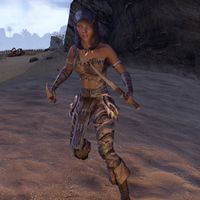 Withered Hand Rogues are Redguard assassins who can be found in various places in the Alik'r Desert.
Skills and Abilities
Edit
Quick Strike

A basic melee attack that does minor physical damage.

Roll Dodge

The enemy can perform a roll dodge to avoid incoming damage.

Whirlwind

The enemy spins around, doing minor physical damage to all players as indicated by a red circle. Blocking will reduce the damage taken.

Assassinate

The enemy strikes at the player's back for moderate physical damage. This attack can only be performed if the enemy is behind the player, and thus Rogues will often leap to get behind the player. Ensure your character is facing the enemy at all times to prevent this.

Sacrifice

When on low health the enemy may sacrifice itself, killing itself and giving all nearby allies a damage shield.