Vothing
Home Settlement
Lillandril
Location
Harbor
Race
Nord
Gender
Female
Health
39959
Reaction
Justice Neutral
Pickpocket
Easy
Profession
Sailor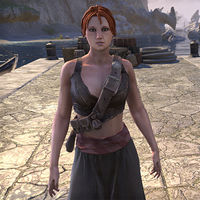 Vothing is a Nord sailor found on the docks in Lillandril.
"You'll often find artists along the docks. In my opinion, ocean paintings tend to be a tad … trite. But then again, what do I know?"
"The Sapiarchs sure seem to have been in a tizzy, ever since the

Mage's

Guild arrived in town. I've never seen them quite so flustered."