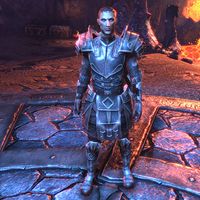 Varen Doppelgangers are minions of the Duchess of Anguish found in the Chamber of Agony in the Halls of Torment, masquerading as former Emperor Varen Aquilarios. There are three of them, with the one in the middle using a spell to torture Sai Sahan, as the others look on and taunt him. Attacking one will cause the Duchess to appear and fight you.
Related Quests
Edit
The three torturers will repeat the same lines as they torment Sai Sahan.
Varen Doppelganger: "Why didn't you protect me?"
Varen Doppelganger: "I should have never trusted you."
Varen Doppelganger: "You failed me, Sai."