Online:Vairaame
The UESPWiki – Your source for The Elder Scrolls since 1995
Vairaame
Home City
Elden Root
Location
The Middens
Race
Altmer
Gender
Female
Health
25974
Reaction
Justice Neutral
Pickpocket
Easy
Profession
Beggar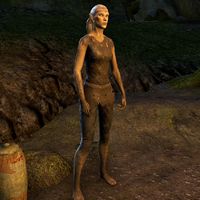 Vairaame is an Altmer beggar who can be found in the Middens beneath Elden Root. She's in the easternmost nook sharing a campfire and meal with Sanobani and Rulistil.
"Of course, nobody down here recognizes me. It's been so long since they've been to Summerset, I expect they wouldn't. When Phynaster finally comes to take me home, they'll see. They'll all see. And none of them will come with me."
"I wonder sometimes if I'm really here. Not here, as in the physical location. The question is more... do I really exist? Do you? Does anyone?"
Vairaame mentions Phynaster, which is an Altmer god of Summerset. There is also a cat with the same name in Vulkhel Guard. Given her state of mind, she may very well be waiting for a house cat to commune with.