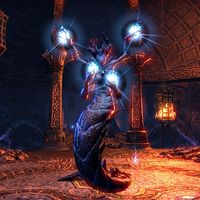 Ulguna Soul-Reaver is a harvester found in the Vaults of Madness. She serves the first boss. Her unique drops are Maleficence and Soul-Reave.
Related Quests
Edit
Skills and Abilities
Edit
Etherial Fire

Ethereal Burst

Soul Cremation

Soul Flame
She can be first seen mocking the trapped Gasteau Charmond near the entrance to the vaults:
The Mad Architect: "You've doomed yourself by coming here―you know that, don't you?
Ulguna Soul-Reaver: "Tearing your soul out never fails to amuse me, Gasteau. I'll return it to you. Eventually." and slithers throughout the neighboring halls.
Dremora Fearkyn: "Bring out the prisoners!"
When approached she will shout
"Your soul is mine!"