Online:Two-Tail
The UESPWiki – Your source for The Elder Scrolls since 1995
Two-Tail
Home City
Elden Root
Location
South of the writ turn-in station
Race
Argonian
Gender
Female
Reaction
Friendly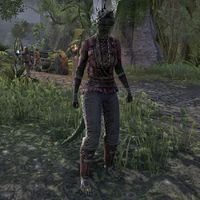 Two-Tail is an Argonian who can be found outside Elden Root, keeping company with Punamu.
Dialogue
[
edit
]
The two will talk about the Gray Mire.
Punamu: "There's a tribe of Argonians living east of Southpoint. Why not settle there, with them?"
Two-Tail: "Why would I want to live with refugees? Especially when the Dominion thinks they may be spies?"
Punamu: "Ah, I didn't know. This one remembers what it's like to not belong. I hope the Argonians find a place here, for their sake."
Occasionally she and Punamu will converse:
Punamu : "Your litter-mates at the Gray Mire had their troubles resolved by an outsider! This is good to hear, yes?"
Two-Tail : "I did, yes. But I don't know exactly what that means. Have they been welcomed, or will they be refugees forever?"
Punamu : "You should go to the Gray Mire and see for yourself. I can look after your affairs. It would be no trouble."