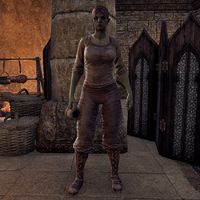 Shabaga gra-Uzguk is an Orc brewer working at the Sisters of the Sands Inn, one of the two inns located in Sentinel. She stands next to Zerdesht in the building's eastern wing.
Shabaga gives you a fair warning.
"If you're not careful, this desert air will turn your tongue to jerky. How about a drink?"