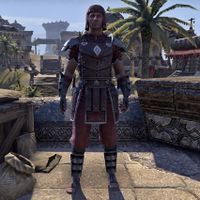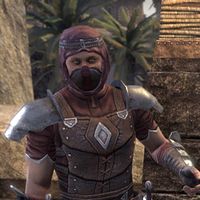 Sergeant Azad is a Redguard member of the Sentinel City Guard who can be found at the Customs House. He appears to have encyclopedic knowledge of his city's laws and regulations.
Related Quests
Edit
If spoken to before helping a business partner, he will curtly state:
"This is a restricted area. I must ask you to leave, please."
Quest-Related Events
Edit
At Ildani's request, she will want you to recover her wares from the Customs House. You will need to speak with Sergeant Azad for access, at this point you can decide whether you want to go ahead with Ilani's plan or double-cross her and help the authorities.
"According to section sixteen of the Sentinel Docks trade regulations, this is a restricted area.
If you remain here for an extended period of time, I'll be required to place you under arrest."
Is this where you hold confiscated goods?
"It is, and we're on high alert right now. A Baandari smuggler named Ildani escaped from the Guard, and we suspect she might try to reclaim her contraband.
If you see anything suspicious, let me know."

I talked to Ildani. She's right up the hill.

"You met her? She asked you to come and steal back her goods, didn't she? Perfect. This time we can catch her and her buyers.
If you'll help, according to statute twenty-two, I can offer you a reward."
Sure. What do you need me to do?
"Fantastic. You'll be acting as a deputized, non-uniformed city guard—as permitted by regulation eleven.
You'll take Ildani's goods and offer to deliver them to her buyers. We'll be watching, and once we have all the buyers, we'll close in."
Sounds like a good plan. I'll do it.
"Good luck, deputy. We'll be watching and once we've identified all the buyers, we'll close in.
Then you'll get your reward."

Are you the only one guarding the contraband?

"At the moment I am. My partner stepped away to go moisten the sand.
But if you're planning to pull a fast one, know I am authorized by statute six to use deadly force if necessary."
[Lie] No, not me, but there's a suspicious Khajiit downstairs.
"Downstairs? Just now? Damn it! That has to be Ildani! I could catch her right now, but according to regulation twelve, I can't leave my post ….
I've … I've just got to make an exception. Will you watch this area for a few minutes?"
[Lie] Sure thing. Go get her. You can count on me.
If you lied to him, he will head downstairs and you can reclaim Ildani's goods.
Sergeant Azad "Those monkeys won't escape me!"
<Azad runs downstairs.>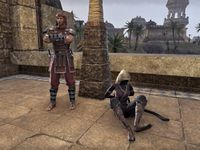 On the other hand, if you decided to work with Azad he will give you the goods to take back to her.
Once you have delivered the packages to Ildani's contacts around the city, you can report back to Azad. He will be waiting at the meeting spot Ildani marked out for you, the Khajiit in question will be tied up next to him, furious. When you speak with him, he will be standing over a captured and bound Ildani and will congratulate you on your work.
"Nice work, deputy! We have everything we need to satisfy statute three.
That means Ildani is in deep desert without any water."
What about the buyers?
"We'll round them up later. They're locals so we don't want to make too much of a scene.
I can't thank you enough for cooperating with us on this case. It'll be some time before the Baandari try to break back into this market."
You will then receive some gold. If you speak to him again, he will say:
"I hope someday we'll be able to repay the favor for your services here today.
The Baandari are elusive. Without you, I'm sure their business would have continued to flourish in Sentinel."
His name used to be Guard Azad until it was changed by a patch.
His headgear is randomly generated.