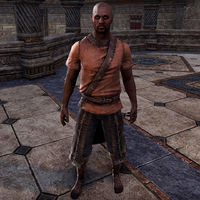 Pranak is a Redguard commoner found inside King Fahara'jad's palace in Sentinel on the upper level, where he sometimes sweeps the floor.
He can tell you're new in town.
"Tava's blessings to you. You are new to Sentinel, I think. You wonder how I know? The sun has barely kissed your cheeks yet."