Online:Niraselya
The UESPWiki – Your source for The Elder Scrolls since 1995
Niraselya
Home City
Elden Root
Race
Altmer
Gender
Female
Health
25974
Reaction
Justice Neutral
Pickpocket
Hard
Profession
Civil Servant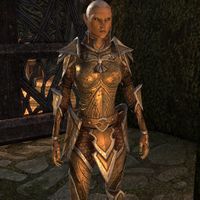 Niraselya is an Altmer civil servant found in the city of Elden Root at the Great Trunk Artisans Court. She stands outside the western vault of Treasury of the Tree and occasionally has a conversation with Ronervi Tharyon.
Ronervi Tharyon: "So, you're telling me that no matter what happens, anything I put here will be safe?"
Niraselya: "Yes. We've never been robbed. Our security is peerless."
Ronervi Tharyon: "Excellent. I'll need you to take care of this for me, then. Keep it safe."