Online:Ronervi Tharyon
The UESPWiki – Your source for The Elder Scrolls since 1995
Ronervi Tharyon
Home City
Elden Root
Race
Dunmer
Gender
Male
Health
39959
Reaction
Justice Neutral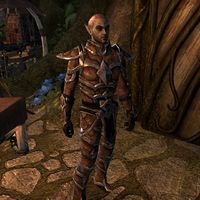 Ronervi Tharyon is a Dunmer found in the city of Elden Root at the Great Trunk Artisans Court. He stands outside the western vault of Treasury of the Tree and occasionally has a conversation with Niraselya.
Ronervi Tharyon: "So, you're telling me that no matter what happens, anything I put here will be safe?"
Niraselya: "Yes. We've never been robbed. Our security is peerless."
Ronervi Tharyon: "Excellent. I'll need you to take care of this for me, then. Keep it safe."
Unlike most Justice Neutral NPCs, he cannot be pickpocketed.