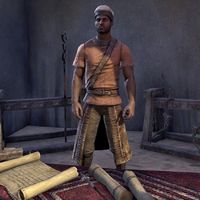 Muruuna is a Redguard woodworker selling his wares at his stall, The Sanded Scorpion, located in the city of Sentinel.
He gives his opinion on wooden weapons.
"My countrymen prefer the simple elegance of the sword—but there is glory to be found in the bow and staff as well. If you have an eye for fine woodcraft, you'll want to see my stock."