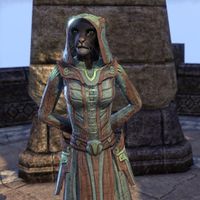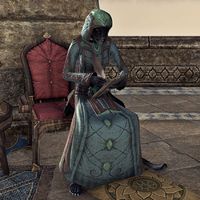 Masura-dra is a Khajiit mage and the magister of Mages Guild in Sentinel.
If you're not part of the guild, she'll recruit you.
"Welcome to the Sentinel Mages Guildhall.
You have curious look. Masura-dra is thinking you want to join us. Is this so?"
If you've already found some lore books:
"Greetings. You stand in the Sentinel Mages Guildhall.
This one is curious: what do you have there?"
I found some texts. Can you tell me about them?
"Ah, yes! This one debated long over this subject with Tailstalker before he left.
You're well on the way to earning membership within the Mages Guild, just in bringing this here. The Guild provides great rewards for acquiring library texts!"
What kinds of rewards?
"Docents earn reputation by bringing in rare texts for our library. As reputation grows… so too do the rewards.
Are you interested in joining the Mages Guild?"
Yes, I would like to join the Mages Guild.
"Congratulations! This one grants the rank of Student in the Mages Guild, along with responsibilities and privileges thereof.
Every book acquired, or collection of books completed, now earns status among the Guild."
If you are, she welcomes you back.
"Welcome back to the Guildhall. There is much knowledge buried beneath the sands of Alik'r. Have you found any to share?"