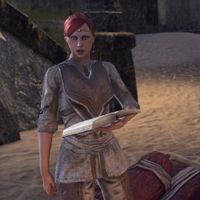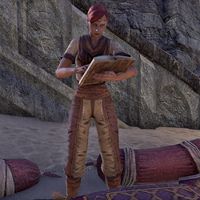 Lucienne Mavine is a Breton leatherworker selling her wares at the Sentinel Bazaar, the marketplace located in the city of Sentinel.
Related Quests
Edit
"Take your time and browse, my friend!
I'm sure you'll find I have what you've always wanted."
Quest-Related Events
Edit
During The Impervious Vault when Gabrielle Benele sends you on her errand, you'll be able to ask Lucienne the following:
Do you have worm's head caps?

"Ah. This is for Gabrielle, isn't it? She's a regular. In a city like Sentinel, we Bretons have to stick together.
I have some in stock. You're welcome to them. Don't worry about payment. I know Gabrielle's good for it."

Do you have any flame stalks?

"I'm sorry, but I'm out of stock … because I'm out of stalks. Hehe.
Seriously though, some Lion Guard mages came through and bought my last batch. Neeneban, the lizard trainer, might have some."