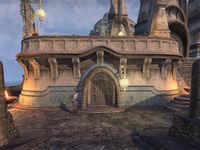 The Library of Vivec is a double volume space located in the Lower Canton of Vivec City.
Librarian Bradyn runs the facility along with several assistants. The centerpiece of the lower level is a large scale model of the entire island of Vvardenfell. The model starts out incomplete, but with your help, Bradyn constructs it in phases until the entire island is represented.
The building houses several bookshelves and the books Ancestral Tombs of Vvardenfell and Ancestral Tombs of the Thirty Revered Families. A coffer stands near Librarian Bradyn.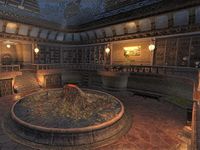 Occupants
Edit
Related Quests
Edit