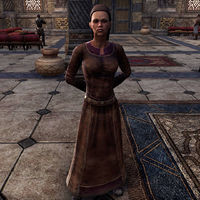 Kozelan al-Kozanset is a Redguard alchemist found inside the palace of King Fahara'jad in Sentinel. She wanders between the upper and lower levels.
Kozelan tells you what the mood in the palace is like at the moment.
"The palace has been like a tomb since the news of trouble at the docks. I am sorry, wayfarer, but I fear you may not receive much hospitality today."