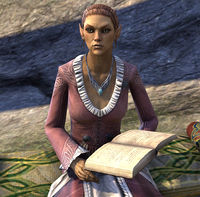 Ingaril is an Altmer scholar and Professor of Applied Phrenology at the College of Sapiarchs currently taking a sabbatical in Russafeld. Unfortunately the recent murders have put a small damper on any chance for relaxation.
"Hm. A curious intersection of circumference and crenellation. The height of the brow, the inflection of the temple... An altogether auspicious arrangement!"
Excuse me?
"Forgive me. I am Ingaril, Professor of Applied Phrenology from the College of Sapiarchs. Cranial profiling is a habit I seem to have a hard time breaking.
Again, if you don't mind my saying so, your head is really quite exceptional!"
Thank you? What does a Professor of Applied Phrenology do exactly?
"We study the skull as it relates to cognitive behavior—when we're not on holiday, that is.
This was to be my well-earned sabbatical from the College of Sapiarchs. Alas, this business with the vintner dashed any hopes for relaxation. Typical."