Hjara Storm-Hammer
Home Settlement
Narsis
Location
Tedas House
Race
Nord
Gender
Female
Health
25974
Reaction
Justice Neutral
Pickpocket
Easy
Profession
Laborer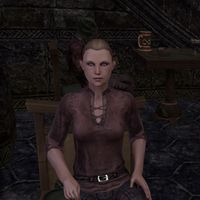 Hjara Storm-Hammer is a Nord laborer attending Madras Tedas's secret meeting at the Tedas House in Narsis. She is among those whose families have been abducted by the Maulborn.
Related Quests
Edit
This character shares a dialogue pool with the other Nords (not including Skorjan Cloudstomper) attending the meeting:
"Damn House Hlaalu!"
"Damn the plague!"
"No more talk!"