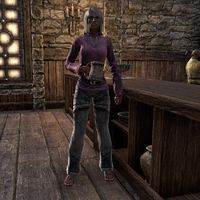 Hisolda is a Redguard brewer who works at the Crosswych Inn in Crosswych.
When the Red Rooks control Crosswych:
"No matter the trouble, people always want something to drink. Sad but true. And I always have plenty of business."
After the Red Rooks are driven off:
"Business is picking up. Let me know if you need something."