Online:Hingaron
The UESPWiki – Your source for The Elder Scrolls since 1995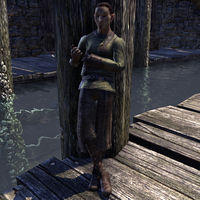 Hingaron is a Bosmer who can be found near the Privateer Drop-Offs in the cities of Evermore, Riften, and Rawl'kha. He cannot be spoken with.
Dialogue
[
edit
]
He will say various things as you sign the manifests for your completed crafting writs. However, it should be noted he only says things if the related crafting skill is at level five.
Hingaron: "Next time you make a delivery, slip me a spare? I'm good for it. Usually."
Hingaron: "Could you put your delivery on the cart? No, never mind, I should do it."
Hingaron: "Honest work for honest pay." Heh. Just the pay, any way I can get it."
Hingaron: "I could use a nap. After I square away your shipment, of course."
Hingaron: "I think your shipment's headed to Cyrodiil. Unless it gets lost on the way. Which it won't! Of course it won't."
Hingaron: "Why is the cargo always so heavy? Are people shipping rocks?"
Hingaron: "More goods for Cyrodiil? That place is a starved tiger. If you feed it, it'll always try to take your hand."
Hingaron: "Couldn't pay me enough to ship this freight. Bandits out there … behind every rock."
Hingaron: "I could really go for some rotmeth. Where did I leave my flask?"
Hingaron: "Hmm? Oh, yes, there is fine. We'll get to it eventually."
Hingaron: "Your work is amazing. It could fetch a good price from the right fence. Not that it will."