Healing Ritual
Line
Restoring Light
Line Rank
4
Cost

5265

 

Magicka

Cast Time
Instant
Duration
–
Target
Area
Area
10 meters
Morphs
Ritual of Rebirth


You heal a single ally outside the ability's radius.

Hasty Prayer


Healed allies gain Minor Expedition for a short duration and reduces the cost as the ability ranks up.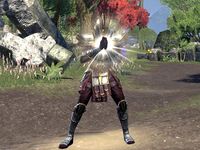 Healing Ritual restores some Health to you and nearby allies. Ritual of Rebirth heals another player outside of the primary effect, while Hasty Prayer allows you to move at full speed while casting this ability, while also healing for a bit more.
The Hasty Prayer morph replaced Lingering Ritual in Update 13, which added an additional healing over time. Ritual of Rebirth had a decreased casting time.
Patch Notes
Edit