Hayed
Home City
Sentinel
Race
Redguard
Gender
Female
Health
25974
Reaction
Justice Neutral
Pickpocket
Medium
Profession
Commoner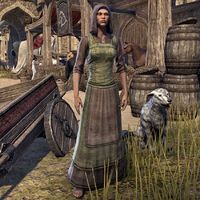 Hayed is a Redguard commoner found in the city of Sentinel. She wanders around just west of Red Feathers Horse and Bridle.
She talks about the state of the city.
"We used to get more caravans from the south, but trade has been light recently.
With all this trouble at the docks, the well of prosperity may go dry before we know it."