Haydelqub
Home City
Sentinel
Race
Redguard
Gender
Male
Health
25974
Reaction
Justice Neutral
Pickpocket
Easy
Profession
Beggar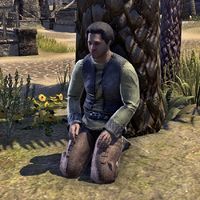 Haydelqub is a Redguard beggar found in the city of Sentinel. He begs in the area near the well northwest of the palace.
If spoken to, he says:
"The guards won't let me drink from the fountains. They won't let me climb the trees to eat figs.
I must depend upon the generosity of strangers … like you."