Online:Grymharth's Woe
The UESPWiki – Your source for The Elder Scrolls since 1995
This article could benefit from an image
of:
Interior views
See Help:Images for information on how to upload images. Please remove this template from the page when finished.

Fine urban living in Windhelm is now available at this commodious town home, which features a lofty main floor, two fireplaces, and a second-floor balcony. Alas, that balcony lacks a railing, which is how Grymharth, after too much mead, came to woe.
Zone
Giant's Run, Eastmarch
Location
Eastern Windhelm
House Prices
Gold
280,000 
Unfurnished
3,800 
Furnished
4,800 
House Stats
Type
Classic
Size
Medium
Style
Nord
Traditional Furnishings
200 (400)
Special Furnishings
(?) (0)
Collectible Furnishings
10 (20)
Special Collectibles
3 (6)
Player Cap
12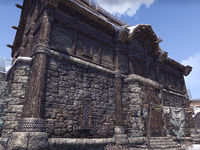 Grymharth's Woe is a medium player house in Windhelm. The house has no exterior at all; instead you are greeted by a spacious 2-story hall with a fireplace. On left there are stairs leading to a second floor and a small room under those stairs. At the top of the stairs there is a medium sized room with a fireplace and a doorway to slightly smaller room.
It is conveniently situated very close to Windhelm Outlaws Refuge for those needing a quick means of escaping a thorny legal situation. Also nearby are the city's crafting areas, and Windhelm Wayshrine is a short walk away.
Base Furnishings
[
edit
]
Lighting (5)
Chandeliers (1)
Lanterns (3)
Candle (1)
Furnished
[
edit
]
Includes the above (minus a lantern), in addition to:
Dining (21)

Benches (4)

Chairs (8)

Counters (2)

Tables (7)

Gallery (7)

Mounted Decor (1)

Paintings (6)

Hearth (51)

Baskets and Bags (18)

Breads and Desserts (1)

Cabinetry (1)

Cookware (3)

Dishes (8)

Drinkware (5)

Laundry (3)

Meats and Cheeses (3)

Pottery (6)

Produce (1)

Stockroom (1)

Utensils (1)

Library (19)

Literature (10)

Shelves (9)

Lighting (7)

Fires (2)

Lanterns (-1)

Candles (6)

Parlor (16)

Knick-Knacks (1)

Rugs and Carpets (10)

Tapestries (4)

Tea Tables (1)

Suite (13)

Bedding (2)

Dividers (1)

Dressers (4)

Nightstands (3)

Trunks (1)

Wardrobes (2)

Workshop (12)

Cargo (4)

Stools (5)

Tools (3)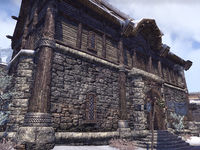 This house is almost identical to Old Mistveil Manor save for the absence of the yard, full upstairs balcony and a small entrance foyer below the balcony.
Achievements
[
edit
]
There are several achievements associated with this house: