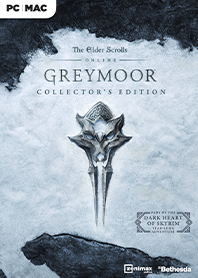 The Collector's Edition of The Elder Scrolls Online: Greymoor includes additional exclusive content. Unlike the previous Chapters' Collector's Editions, this edition doesn't come with the base game; it is only available as an upgrade.
The physical version, which was only available by pre-ordering in retail, came with:
The Greymoor Chapter.
A steelbook case.
A map of Western Skyrim.
A 12" Vampire Lord statue.
Both the physical and digital Collector's Editions unlock the following exclusive digital content:
The following pre-order bonuses are also included in the Collector's Edition:
The Collector's Edition is available from retail and through the PC/Mac Store, Steam, and the Xbox Store. Since the Chapter was not made available for pre-order purchase through the PlayStation Store, the pre-order bonuses will be included as a "gift with purchase" for those who buy any PlayStation edition between June 9 and June 22, 2020.