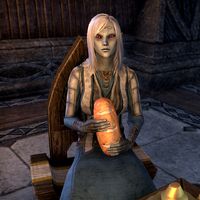 Galdas Indrano is a Dark Elf chef and a member of the Mages Guild. She can be found on the top floor of the Mages Guild Hall on Eyevea once the island becomes accessible for mages.
When approached, she sounds excited.
"Spices, sauces, sausages, more! You name it, I've got it galore!"