This article could benefit from an image
of:
Fully upgraded, promotional render
See Help:Images for information on how to upload images. Please remove this template from the page when finished.
Sabre Cats, of course, are inured to the harsh, wintry conditions of Skyrim, and scarcely need warding from the cold; kitting them out as Frostbane mounts is therefore more a question of tradition than of protection.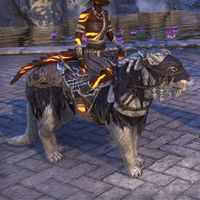 The Frostbane Sabre Cat is available as an Apex-level reward in the Scalecaller Crown Crates. Its default name is "Ice Stalker".