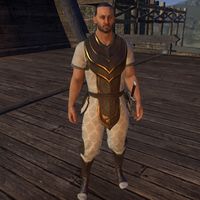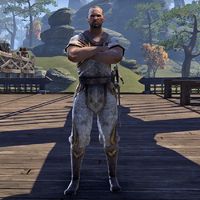 First Mate Kaliq is a Redguard sailor and the first mate of Captain Currod. He is found on his ship, The Tava's Bounty, which is docked in Koeglin Village.
He is angered by how his crew is being treated by the local guard.
"If we hadn't already lost half the crew, I'd have half a mind to teach these village guards a lesson."
After the Koeglin Village objective is complete:
"We'll work through the night if we have to. We're putting out to sea as soon as possible. This will be my last visit to Koeglin Village."