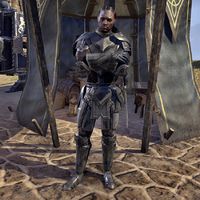 Dozhim al-Bergama is a Redguard commoner and member of the Daggerfall Covenant who can be found at their camp on the outskirts of Sentinel.
His dialogue is the same regardless of your alliance.
"Swords aloft, warriors! With the blessings of Onsi's bright blade, the Covenant banner marches forward. Are you ready to make war upon the enemies of the Alik'r?"