Deekum
Home City
Elden Root
Race
Argonian
Gender
Male
Health
39959
Reaction
Justice Neutral
Pickpocket
Medium
Profession
Scholar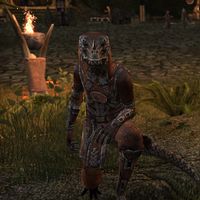 Deekum is an Argonian scholar found in the city of Elden Root at the Great Trunk Artisans Court. He is studying the flora around the central tree with blue leaves. When spoken to, he'll say one of two things:
"I read in a book that the Wood Elves call themselves tree-sap people. This is also true of Argonians! The Hist are our trees, and their sap our sap. For the Wood Elves it's the Graht trees. Isn't that interesting?"
"I'm very interested in all of these plants that just grow like this within the Elden Tree. My interest as an alchemist is piqued, but if I cannot harvest these things .... I just collect their leaves and petals that fall. Perhaps I can use them."