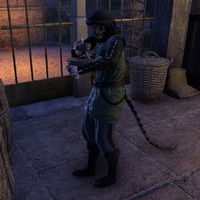 Daiharri is a Khajiit cook found in the courtyard of Hubalajad Palace. She will be preparing meals for those attending the wedding of Magnifica Falorah and Cosh.
Related Quests
Edit
Quest-Related Events
Edit
When you first approach her work station, she will be berating Olmarinn for being impatient:
Daiharri: I said the food is not ready! Now go, before I beat you with a spoon!
Olmarinn: I just wanted some chicken!
Once Dashka has been lured to Daiharri's counter.
Daiharri: "Get off the table! Someone take the dog away before this one turns it into soup!"
<Zadrik and some other guards come on the scene.>
Zadrik: Problems already? They should have watered down the drinks."