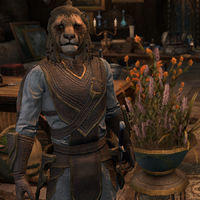 Chezan the Overcautious is a Khajiit fence who can be found at the Outlaws Refuge in Sentinel.
He seems mildly paranoid.
"Don't tell me where the goods came from. This one doesn't need to know!"
"Discreetly, discreetly. You can never have too little attention."
If you've reached your limit for both selling and laundering, he will instead say:
"Not right now. The Guard is on to me!"